Material: Cotton, Lace
A Bra So Supporting & Flattering Yet So Comfortable
Choose the best bra for your health!
Three fashionable bras to suit your outfit choice: Classic White, Midnight Black and Natural Nude.
Slip-on comfort bra: 360 degrees of buttery soft, breathable fabric.
Lace criss-cross wrap design for tailored lift: You can customise and control the lift to match your outfit and your mood.
Smooth and seamless back panel without fiddly clasps: Made with intricately netted fabric, designed to keep you cool. Go from lumpy and bumpy to perfectly smooth with no more back fat.
Pillow-soft wide and adjustable support straps: So you get double the support, without digging into shoulders or sides. Say goodbye to side bulge!
Elegant V neckline with lace edging: Perfect to wear with all outfits, from day to night.
Special insert pockets and full coverage removable shaping inserts: For extra lift and the silhouette you love.
LIFTS & SUPPORTS BREASTS:Front cross and side buckle under bra line for ultra boost & stability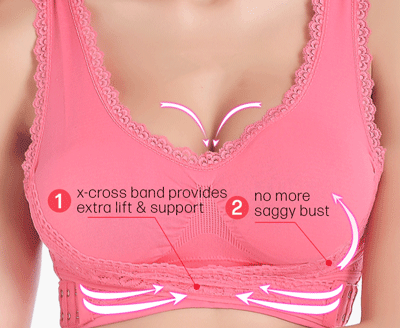 PREVENTS SAGGING & WRINKLED SKIN:Front cross and side buckle under bra line for ultra boost & stability
REDUCES PAIN & IMPROVES POSTURE:Provides ultimate breast support against sagging while keeping an upright posture
SEAMLESS & WIRELESS:Ultra-comfortable carefree wearing
AIR PERMEABLE & STRETCHY:Sweat-absorbent and quick-dry fabric characteristic is perfect for sports and yoga
This product is covered by our 30 Day Money Back Guarantee (Terms & Conditions Apply).